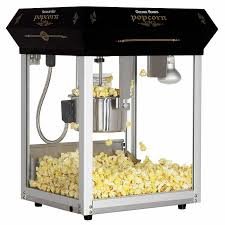 Popcorn Machine
This 8oz commercial popcorn machine brings the "Movie Theatre Popcorn Taste" to any event.

This unit will produce 8oz of popcron every 4-5 minutes/
150 quarts of popcorn an hour.
An average serving of popcorn is 2 cups, which fills a small 1 ounce popcorn bag. If you're thinking of the servings provided at movie theaters, a Small equals roughly 8-10 cups (4-6 servings), a Medium equals 12-14 cups (6-7 servings), and a Large is equal to 16-20 cups (8-10 servings).
Rental Includes
Includes 24oz of pre mixed ready to use bag with each rental - Serves 48 people 1 oz bags.

Additional supplies available if needed.

Ideal for birthday parties, family reunions, cooporate functions, church events and much much more!