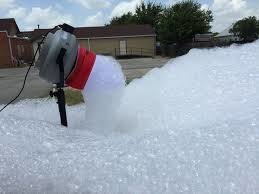 Foam Machine PICK UP (Machine Only)
This is for the FOAM MACHINE only (PICK UP ADD ON FOR YOUR EVENT)

This comes with enough foam solution for approx 2HOURS of use- keep in mind duration, density, volume of foam all depends on event. When it's young kids you use less foam - when it's a teenager birthday or adults dance- you use more because they want bigger volume, taller foam and quick foam production.

Extra powder is $30.00 per package which typically is to last between 45-60mins.

We rent the machine and pit based on a four hour rental period- and provide 2HOURS of solution as you typically won't be using the machine constant once you get the foam started and it begins to pile up.

This is MACHINE ONLY. Inflatable Foam pit NOT INCLUDED in this price. Please see Foam Pit + Machine to rent the entire foam pit with machine setup.